Climate change, fake news, vaccines, sexual assault — the Behavioral Science & Policy Association conference didn't shy away from the heavy topics du jour. More than 200 behavioral scientists, policymakers, and more, from both academia and industry, convened on June 14 in NYC. For some of our favorite themes, read on.
---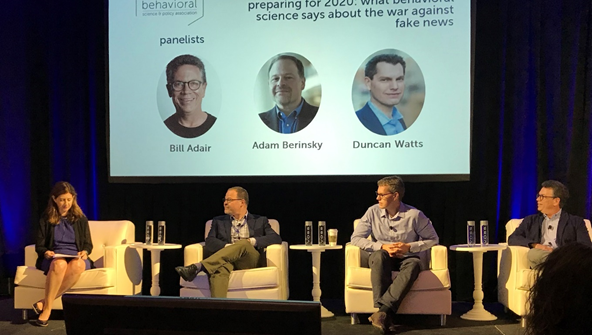 Fake news is your grandma's fault. Okay, maybe not entirely, but her e-mail forwards aren't helping anyone, says PolitiFact founder and Duke professor Bill Adair. In a panel moderated by the NYTimes' Rebecca Blumenstein, the experts debated causes of the misinformation epidemic, what it means for politics, and what on earth can be done about it.
Despite evidence of Russian interference and bots, Microsoft researcher Duncan Watts thinks the bigger culprits are still politicians and television. MIT's Adam Berinsky isn't as quick to give other communication platforms a pass, however; news outlets are amplifying — and polarizing — messages as they go.
But how powerful are actual news outlets? Not very, it seems. Journalists are losing jobs faster than coal miners, Blumentstein points out. And Watts shared that almost half of the US reads no news on their desktop, while almost three quarters spends less than 30 seconds per day reading news online.¹ When people have so little exposure to real news, what chance does the truth have?
It isn't all gloom and doom, though. The panelists were optimistic that technology can help curb the spread of fake news and empower people to interact productively with politicians.
---
Have you checked your pipes? Harvard's Cass Sunstein recommends that every organization conduct a sludge audit.
Sludge is a nudge used for bad. It can discourage behavior that is in a person's best interest or it can encourage self-defeating behavior. Sunstein dug deep on paperwork and administrative burdens that prevent people from accessing aid and services, as well as wasting a ton of time and money.
Take, for example, the Earned Income Tax Credit. Millions of low-income Americans fail to claim this benefit even though they're eligible because the rules around it are so complex. Meanwhile, the IRS has sufficient information to automatically make this credit available to those who qualify, without making them jump through paperwork hoops. And last year, 2.4 million infants were eligible for the government's Women, Infants, and Children (WIC) nutrition program, but 80% of eligible infants didn't receive the aid. The applications and systems surrounding access of benefits are notoriously complex to navigate, and those in greatest need are usually the least able to take on an additional burden.
Removing sludge is work, but highly effective. In a study by Dynarski and team, the researchers showed that removal of administrative hurdles (such as filling out the FAFSA) made low-income students twice as likely to apply and enroll at a selective university.
There are circumstances where one person's sludge is another one's nudge. For example, Sunstein references a study by Luca et al. that shows handgun waiting periods reduce homicides by 17%. The added friction slows down an individual's actions but the process is beneficial for society as a whole.
---
"There's nothing more powerful in the world than a good story," said nobody at BSPA, since this is a quote from Game of Thrones character Tyrion Lannister. But it might as well have been from University of Oregon's Paul Slovic, whose book, Numbers and Nerves, explores our cognitive response when inundated by facts and stats. In short — we tune them out. Our cognitive biases lead to inaction in the face of some of the world's largest humanitarian challenges, including genocide, famine, climate change.
Go ahead and add these to your flashcards:
Psychic numbing = phenomenon that causes us to feel indifferent to the suffering of large numbers of people
Pseudoinefficacy = idea that people are less willing to help one person when they are made aware of the broader scope of people in need that they are not helping
Prominent effect = theory of choice that says people often default to choosing the option that is better in the most prominent or defensible attribute
To spread awareness and combat these barriers, Slovic is part of The Arithmetic of Compassion. The site highlights some strategies, such as using narrative and stories to elicit empathy, rather than just stats. "You can't multiply a feeling by a probability," said Slovic, but behavioral science can provide tools to elicit empathy and inspire people to action.
Author: Sara Dadkhah
---
These were just a few of the highlights from this year's conference, which brought together experts in the sectors of financial decision making, health, energy & environment, education, management & labor, and justice & ethics. For a play-by-play of the day, check out #BSPA2019. We loved learning how behavioral insights are improving people's lives and can't wait for more.
---
See 2020 dates for Irrational Labs' Behavioral Economics Bootcamp and apply today.
[1] Adjusting this result to include mobile browsing, the majority of Americans spend less than a minute per day reading news online.