Leveraging the Hidden Potential of Tax Refunds
This project is a part of Duke's Common Cents Lab. The Common Cents Lab is funded by the MetLife Foundation and supported by Blackrock as part of BlackRock's Emergency Savings Initiative.
Overview
Picture this: You wake up one day to find a sizable tax refund sitting in your bank account. You knew it was coming—it comes every year.  And it's always tempting. It usually goes to pay off bills, but invariably it also gets spent on birthday presents, weekend getaways, and more of those fun, but not really required, expenses.

What if we could turn this moment of temptation into an opportunity for long-term financial security? In 2016, Common Cents Lab, a Duke University initiative co-led by Kristen Berman, Wendy Da La Rosa and Mariel Beasley partnered with San Francisco fintech startup Digit to do just that. And the short, SMS-based intervention resulted in over $1M in savings!
The Challenge
In 2022, 68% of tax filers received an average tax refund of $2,812. That's a substantial sum of money with the potential to make a meaningful impact in people's lives. But saving for the future requires countering present bias and resisting the powerful temptation to spend that arises when money is readily available in your bank account. 
So how would you fight this? 
The Approach
Drawing from behavioral science research, Wendy De La Rosa, a Common Cents Lab researcher at the time, knew that pre-commitment—the act of committing to a decision before facing its consequences—could make a significant difference. 
Saving $1,000 today? That's painful. Committing to saving $1,000 a year from now, shielded from the immediate pain of that commitment? That's a whole different ball game.
Enter Digit (now known as Oportun) an innovative financial management app that helps users save by analyzing their spending patterns and squirreling away small, daily amounts from their checking account into a savings account. Given their focus on frictionless financial wellbeing, it was a natural partnership.  
The Experiment
The team at Common Cents Lab conducted a randomized controlled trial with Digit users, dividing them into two groups:
The Control Condition
In the control condition, users received a text message when Digit detected that their income tax return had hit their bank account, and they were asked what percent of the return they wanted to move to savings.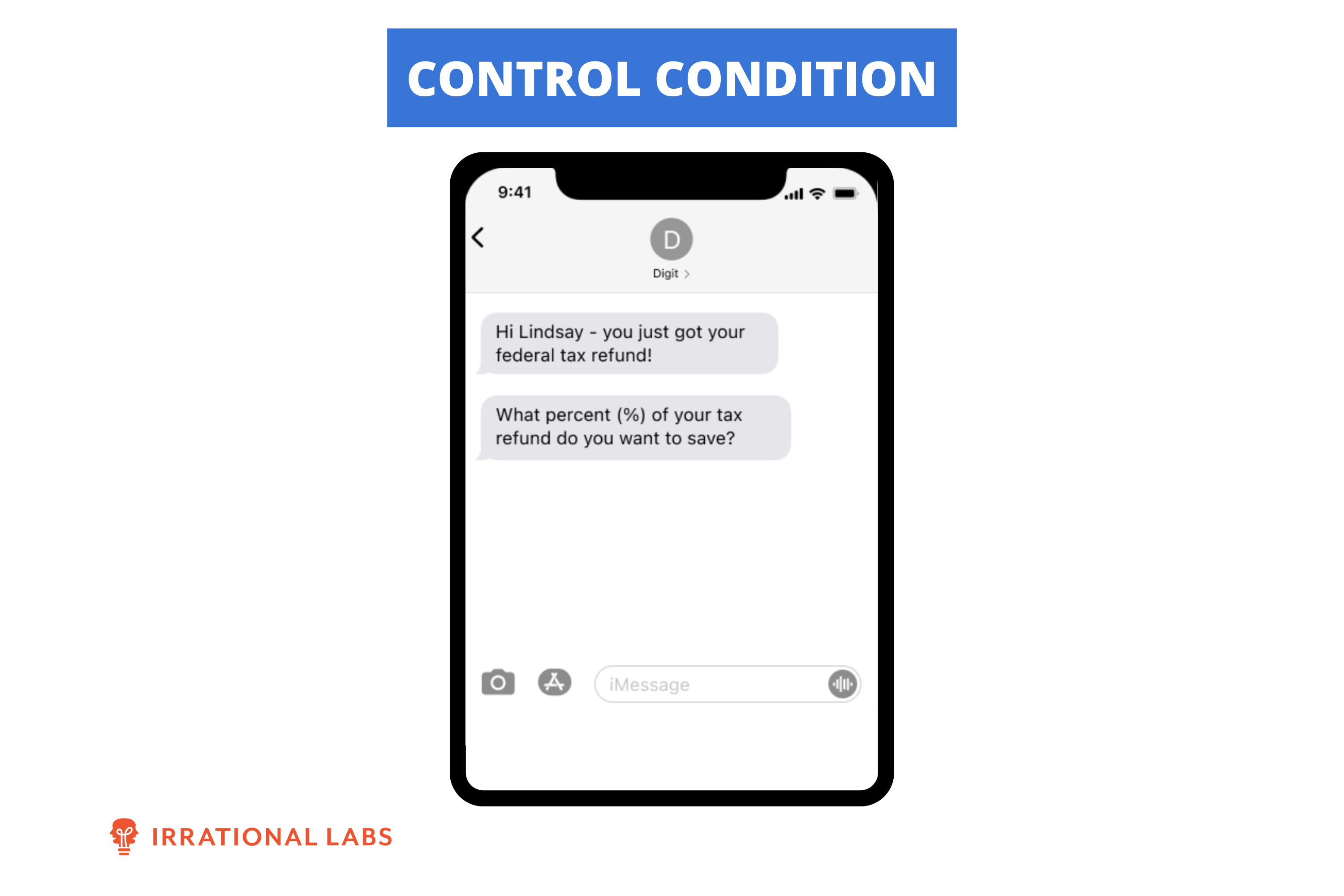 The Precommitment Condition
In the precommitment condition, the text message was sent a few weeks early. In this case, users were asked what percentage they'd like to save if/when they got a refund. When the refund hit, Digit then automatically saved the precommitted percentage.
The Results
Pre-commitment drove more savings. In the control condition, when users responded to the text, they wanted to save an average of 10% of their tax refund. In the experimental condition, when users pre-committed to saving, that number rose to 15%. Furthermore, when we remove the people who responded '0',  a single well-timed text message increased the savings rate from 17% in the control condition to an impressive 27% in the precommitment condition. 
Digit Case Study: Key Takeaways
People have a limited amount of attention. Interventions that manipulate the salience of a specific opportunity help to break through the cognitive load of daily life. The team leading this project found that just asking clients to do something is a way to increase an opportunity's salience and can lead to some baseline level of behavior change. 
In Digit's case, more than 10% of people—across conditions—responded positively to Digit's SMS texts, regardless of timing. In other words, Digit sent one text message and 10% of users now have more in their savings account. Sometimes, all you have to do is ask. 
Overall, this low-cost, brief text intervention helped thousands of users save over $1 million dollars. And 3 months later, 85% of those funds were still in their savings accounts. 
By leveraging the power of behavioral science, the team at Common Cents Lab transformed a fleeting moment of financial abundance into meaningful savings.
---
Want to learn more about this work, or to partner with us to leverage behavioral science to solve your toughest financial services or other product problems? Contact us at [email protected].