August 3, 2016 by Irrational Labs
Noncommunicable diseases (NCDs) (e.g., cancers, diabetes, cardiovascular disease, and mental health disorders) are the leading causes of death worldwide. Yet, the main factors that cause NCDs are social and behavioral factors, not genetics.
It has become increasingly evident that as a society, we must change our behaviors, in particular our eating and exercise patterns. Our work environment has become increasingly important in this conversation, as Americans are spending more of their time at work. According to the Bureau of Labor Statistics, Americans spend over 50% of their time at work.
However, there is reason to believe current employer­-sponsored wellness programs are not working. Recent RAND wellness surveys confirm this is the case, but more surprisingly, HR managers are also saying it themselves. According to a survey by Corseo, nearly half of human resources leads (48 percent) did not believe their organizations' wellness plans were effective.
On July 25th and 26th, Irrational Labs convened 17 large employers from across the country to discuss the use of behavioral economics in health and wellness initiatives.
Attendees included: Amgen, Activision Blizzard, Centene, Eli Lilly, Ebay, Google, Intuit, Kroger, P&G, Salesforce, Sutter Health, T-mobile, Target, Time Warner, University of Michigan, Williams-Sonoma, and Zappos.
As confirmed in a preconference survey, what these companies had in common was:
1) a desire to improve employee health outcomes
2) a belief that their current attempts were not as successful as they could be
3) perception that moving the needle on employee health is difficult.
At the conference, Dan Ariely gave talks on principles of behavioral economics, choice architecture, and the psychology of incentives. We also walked the employers through 20 concrete examples of how to apply behavioral economics principles in the context of employee health and wellness, from cafeteria design to fitness incentives.
At the end of each session, conference attendees broke out into working sessions to actively define their own takeaways and action plans.
Some examples include:
Adding "walking meetings" as a default option in the company's calendar software
Using social proof for the scheduling of health screenings
Having employees pre-pay for healthy foods
Shifting incentives away from gift cards and more towards limited custom company gear (scarcity), potentially using lotteries or regret lotteries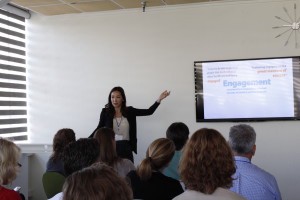 Our attendees were also inspired by Target, whom we invited to guest speak. For example, they shared some of the behavioral tactics they used to increase mammography rates. This included not only bringing the mammography trucks on site (reducing the barrier) but also a creative incentive of saying that for each woman who got a mammogram, another less privileged woman in the community would get one.
Irrational Labs is now working on a report to publish not only our findings from the conference, but also a general guide on using behavioral economics in health & wellness initiatives. We'll release it this fall — stay tuned!
---
Originally published at irrationallabs.org on August 3, 2016. You can now find the Irrationally Healthy report here.