I needed to shrink my husband, Paul—to make a miniature version that would capture his engaging personality, in app form, using behavioral design.
Paul had taught Pilates in our community for 10 years when the pandemic forced us to shutter our studio. Clients had been requesting Pilates instruction outside the studio environment even pre-pandemic, so I saw this as an opportunity to scale his business—with my help.
My idea? Design an app that his clients could use as an add-on to in-person classes. This would build on market research I had done as a graduate student in Technological Futures. Ready to take my prototype to the next level, I showed up at Irrational Labs' first Behavioral Design Bootcamp with a project in hand.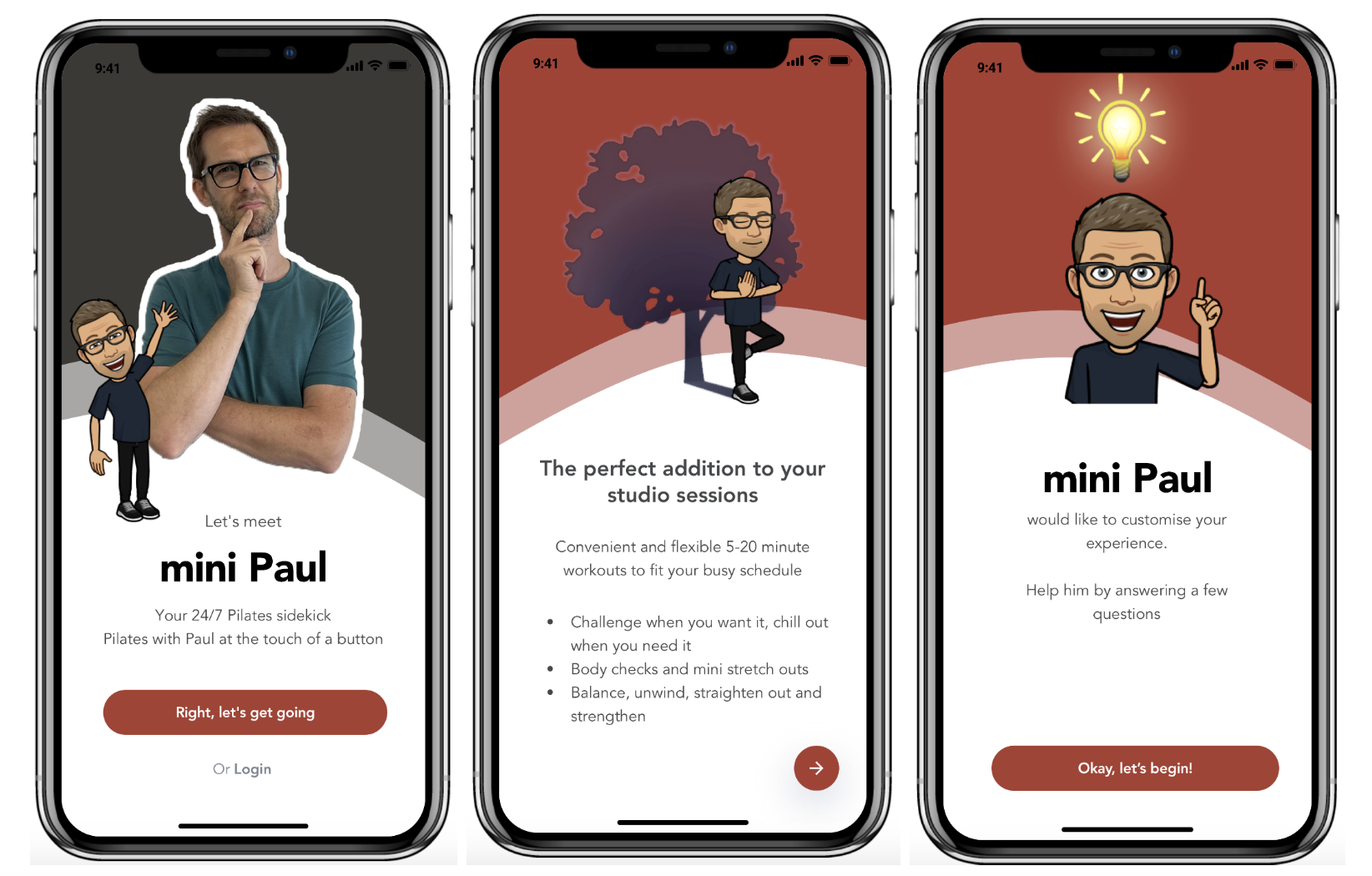 Behavioral Design Lesson 1: Accentuate the Human
Before I joined Irrational Labs' interactive bootcamp, I developed a prototype app, mini Paul, as part of a business Master's program. My Master's offered incredible insights into emerging technologies, new business models, and design thinking practices, but it lacked a behavioral component. When it comes to business, this matters—people are less likely to adopt a product that's not tailored to their behavior and informed by psychological research.
Throughout the course, Irrational Labs' 3B Framework guided my product journey. It covers every step of the behavioral design process, from behavioral mapping to leveraging behavioral economics principles that inform actionable solutions. Organized around behavior, barriers, and benefits, the framework gives a glimpse of how the course benefits product designers and PMs.
To better understand people's core psychologies (and ensure success for my product), I began by identifying users' key behavior (the first B).
Like many fitness apps already do, I wanted to nudge users to work out regularly—but I went a step further. I wanted clients outside of the studio environment to use the app and perceive it as a value-add to in-studio classes. 
We were designing for one key behavior: to get existing, busy clients to do their first class via 'mini-Paul' after onboarding. The key behavior describes who your user is, what they will do, and when they will do it. To make this work, you have to be specific.
The course taught me that onboarding can be a key phase in an app's selling journey. My research on the onboarding process showed me four aspects to optimize for:
Make it fun: Emphasize an emotional benefit to users

.

Appeal to identity: Users see Paul as an authority on all things Pilates. Having 'real' Paul recommend the app encourages them to follow 'app' Paul's advice.

Offer social connection: Users felt a social connection to Paul and so ma

king that relationship salient would likely increase the number of users onboarding successfully.

Reduce choice overload: A barrier that I wanted to address in my app redesign, making sign-up easier for users and encouraging regular use.
Maintaining a connection to Paul, the human, proved critical. During the Design Sprint (done pre-cohort kickoff), I found that clients were loyal to Paul because they felt a personal connection to him and trusted his training. In client interviews, trust was an essential recurring theme for people who rely on his classes for exercise, weight loss, physical rehabilitation, or mental wellness.
When I first started looking for an existing app that Paul could use, I realized the cost was prohibitive—I wanted an affordable option for businesses like ours, small studios that emphasize personal connection while trying to scale. My solution: I developed the app as a white label with simple visuals and language that could be easily customized and branded for others.
Behavioral Design Lesson 2: Reduce Barriers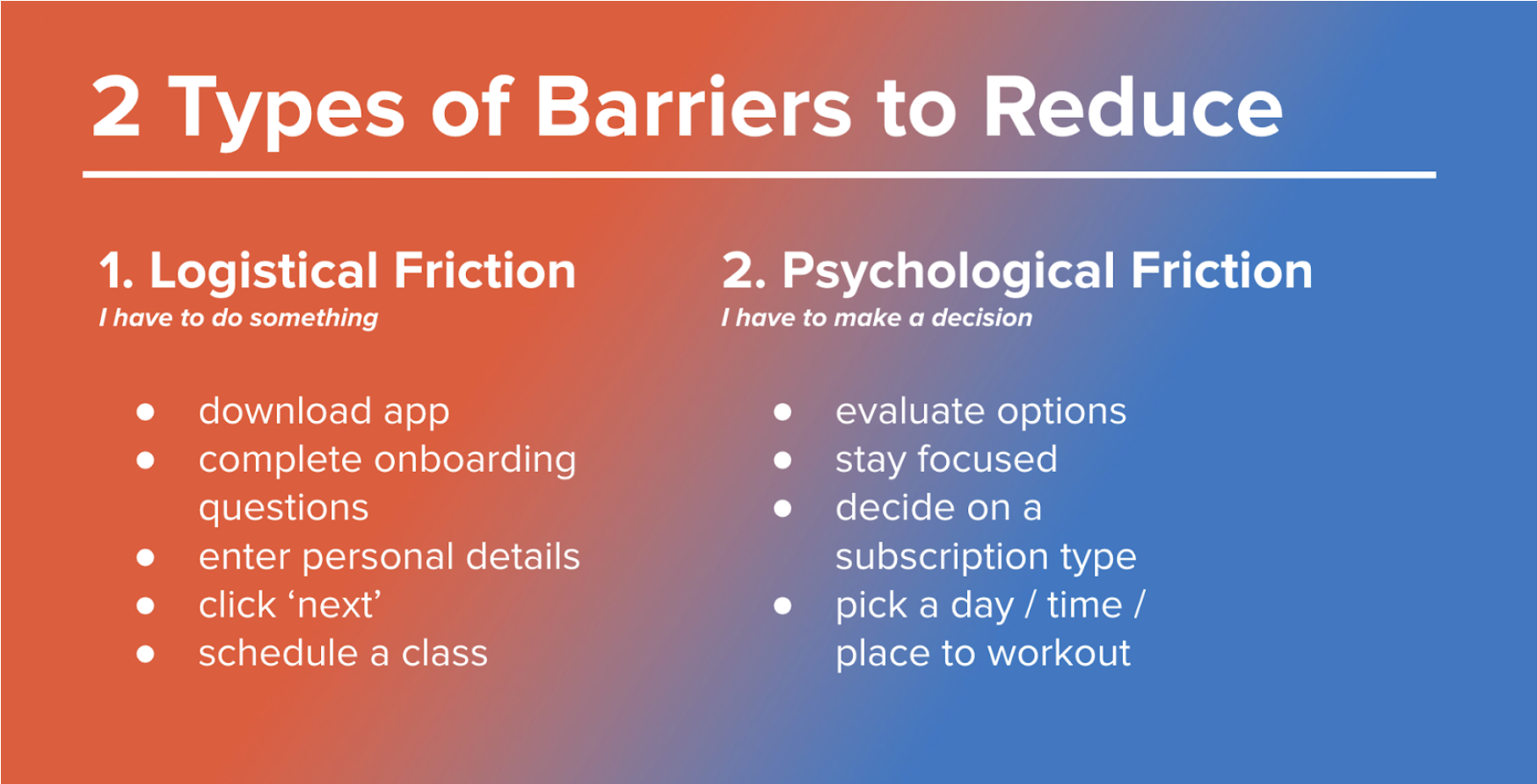 There are two kinds of barriers that behavioral design tries to overcome. Using Irrational Lab's behavioral mapping technique, I visualized the barriers (the second B) that might prevent clients from doing Pilates virtually.
The first is logistical friction, when a user needs to take action, but is stumped by bad UX design. As Behavioral Designers, we try to make the process simple and intuitive for our users. Because all products compete for limited user attention, I simplified the app removing the necessity of typing answers and providing one-click options.
Previous market research revealed that busy people prioritize studio classes because they are scheduled, and they feel accountable to Paul. Clients said, "I wouldn't want to let [Paul] down, and I really think that accountability is key." Another said, "I'm definitely accountable if I've made an appointment. I turn up every day because Paul's waiting for me." When it's in an app, it's harder to make it a priority—a good workaround was to heighten accountability. 
Behavioral designers also try to reduce Psychological Friction. When things overwhelm our decision-making abilities (like our already busy lives), this can deter users from reaching their outcome. An example of psychological friction, cognitive overload keeps people from making decisions when there are higher levels of decision difficulty (i.e. too many options). I knew I had to problem-solve for this barrier if I wanted users to sign up. 
To minimize cognitive overload, I simplified the onboarding process by:
Removing 3 screens from the sign-up process, and only leaving prompts directly benefited users

Tweaking onboarding questions to suggest automated answers that represented 90% of base client preferences. In addition, I gave an option to choose something more specific.

Adding

a goal gradient indicator that would display sign-up progress—but keeping it short to motivate users to continue.


Behavioral Design Lesson 3: Flaunt What You've Got
After identifying key psychologies that would eliminate barriers to app adoption, I focused on amplifying benefits (the third B) for the mini Paul app. I wanted to increase buy-in and user engagement by communicating the app's benefits. 
Show, Don't Tell
Previously, clients weren't offered a mental model of how the app worked, or how it would help them achieve their fitness goals. I wanted to help users contextualize how the app could fit in their life. This is key to good product design.
In one-on-one workshops with Irrational Labs' behavioral scientists, I learned that I could strategically pair onboarding questions with explanations of the benefits of using the app. I used the onboarding process to communicate these benefits and reduce uncertainty about the app's value. I also replicated what clients already knew and appreciated about Paul through consistent visual displays, instructions, and language.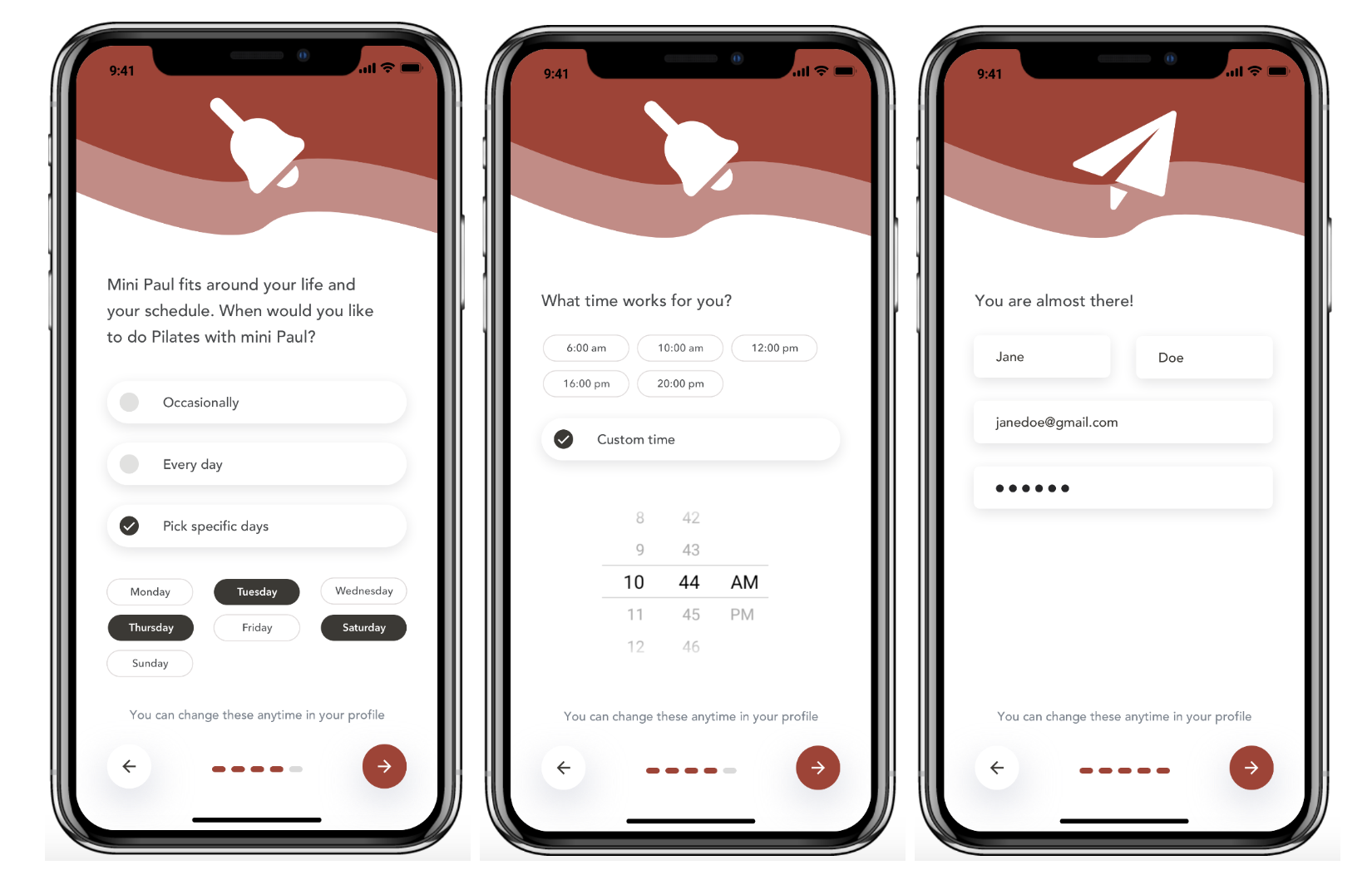 Ask Users' Permission
I made the app easier to use—but ease of use alone doesn't automatically equal user adoption. I could design the best Pilates app in the world and life would still get in the way. So, I also added a social permission feature to the app's onboarding that would help customers create an exercise plan. Building in helpful notifications can increase the likelihood that users exercise regularly.
I based this on two behavioral insights:
Commitment device: Forming a concrete plan on when and where to exercise would make people

likelier to follow through

and take an online class through the app.

Reminders: Helping users remember when to use the app reduces psychological friction and increases keeping of

commitments made during onboarding

.

From Design to Development
Using these insights, I transformed the app's mockups and the overall flow to achieve a smoother, simpler onboarding process. The result reduced logistical friction and helped shape customers' mental model, building on the strengths of Paul's in-person work. 
I entered the course armed with user research, a prototype, and two goals: to enhance Pilates participation outside of the studio environment for existing clients, and to provide a sustainable option for businesses to scale. Irrational Labs' approach enabled us to build new products using key psychologies and strategic behavioral design. The result? A more positive and personal app experience. 
The course also gave me the tools to A/B test as part of the iteration process and enhanced my understanding of habit formation. As we move from mockups to a live version, my team will keep experimenting with these interventions—and ultimately make 'my husband, the app' an attractive option for Pilates students everywhere.

To future users, I say: I met him first.
——————————————————————————————————————————————————
Ready to take your product idea to prototype? We offer self-paced interactive behavioral design bootcamps. Both are project-based, and actionable. In our interactive cohorts, people learn in real-time alongside course facilitators and peers. Students have access to weekly one-on-one coaching sessions with our team of behavioral scientists.
You'll apply peer-reviewed behavioral science principles to a major design challenge at work, in your personal life, or an entrepreneurial project, and work with Irrational Labs' behavioral scientists to make it happen. Both courses teach our original 3B framework to target key behavioral psychologies and reimagine their product or service. While there are more than 200 key psychologies and cognitive biases (at least the ones we know about!), we focus on a Sweet Sixteen. This abbreviated list generates high-leverage insights that can immediately improve your work.
This case study focused on building an app from the ground up using key insights from behavioral design. It emphasizes how our coursework and interactive workshops could reimagine the user experience. Other bootcampers moved to experimentation. Read about Josh Ly's experiment here.